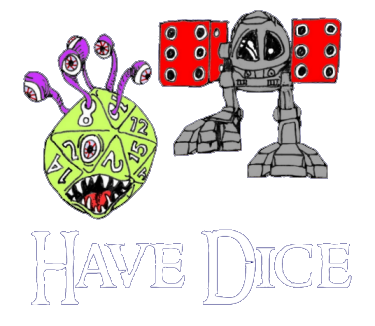 Will you be running X game?
We only have one rule for which games we run; whatever people want to play. For example in recent years we have run the following; D&D (all variants), Warhammer Fantasy Roleplay, Call of Cthulhu, Mage, Vampire, Witchcraft, Godlike, Mutants and Masterminds, Buffy the Vampire Slayer, Angel, Skyrealms of Jorune, Slaine D20, Amber, Ars Magica, The Dark Eye, Serenity, Traveller, Paranoia, Wraith, SLA Industries, Star Wars, Feng Shui, Chivalry and Sorcery, Armageddon, Shadowrun, Rolemaster. And that's only the ones I can remember. Can I run X game?
See the above; if we can find enough players who want to play your game you can run whatever you like! Is there an age limit?
Because our venue is a Licensed Premises, and due to concerns over legal responsibilities, attendees should be over 14 and if under 18, accompanied by an adult. Are there refreshments?
Indeed there are - The New Inn is well stocked at good prices, should you want to drink at the club.
PLEASE DO NOT BRING YOUR OWN DRINKS
This could jeopardise both their licence, and our use of the venue.

PLEASE DO NOT BRING YOUR OWN SNACKS Basic snacks and hot food is provided for sale.
When does the club run?
Every Thursday evening. Games start at 7.30pm, depending on when people turn up, and wrap up about 10pm - 10.30pm. At the moment we run three or four tables, 4 games run for 2 months, then a three month game and we don't meet in December, we change games so people get the chance to play different games with different people.